Chalk it up to talent, time and effort
1999 Sidewalk Arts Festival judges believe
SCAD paves way for next generation of artists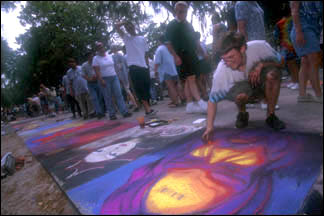 Photo by Richard Rodriguez
Sophomore Daniel Ackers, an illustration major, puts the finishing touches on his
sidewalk canvas, mixing and creating with the few basic colors of chalk allowed by event rules.
By Margarita Venegas
(4/30/99 issue)

A few blocks from where the space shuttle was taking off, a snorkeler captured a confused-looking fish. Not far from both of these scenes works of famous artists were recreated.
If for only a few hours, before rain and wind erased the chalk drawings, the 1999 Sidewalk Arts Festival transformed Forsyth Park into a colorful community that reflected the diversity of students, residents and organizations that are a part of SCAD and Savannah.
"It's amazing because it's 800 works of art representing different individual tastes, talents and backgrounds. They have this opportunity to show what they've learned at SCAD," said Vice President of Marketing for American Rug Craftsmen John Azzolino, one of five judges for the festival.
Azzolino's employer, American Rug Craftsman, has been recognized as and industry leader, receiving five design awards from the textile industry. A former cartoon strip writer, children's books and magazines designer, Albright said that artistic talent permeates every aspect of his business. Crawford, who has more than seven years experience in the computer aided textile design field, oversees 50 designers and assists in recruiting. Blass has worked for the Whitney Museum for 19 years and controls all aspects of staff management. After receiving a graphic design degree from SCAD, Davis went on to free-lance before accepting a position at Southern Living.
Manager of Corporate CAD at Liz Claiborne Inc. Craig Crawford thought the park location of the festival was not only beautiful, but provided a unique setting. Although Vice President of Trade Creative Service Gary Albright had never attended the festival before, he said he heard so much about it that he was happy to take the opportunity to be a judge.
Other judges included SCAD alumnus and designer for Southern Living Magazine Christopher Davis and Director of Human Resources of the Whitney Museum of American Art Hillary Blass.
"It's like coming full circle, seeing old friends and the creativity that is still so strong here," said Davis, who never had a chance to participate in the festival in the three years he attended the college.
Another point on which the judges agreed was that the festival was much more than just a fun exhibition; it showcased the talents of students and showed the amount of support the college gives artists.
"The most important thing students need to learn is how to use art in their lives, the practical importance of it," Blass said.
"SCAD offers a wide variety of experiences," added Albright. "Colleges like this give students the opportunity to go into a wide range of professions."
In order to distinguish oneself and one's products in today's markets, employees must have a diverse and original background, Azzolino said. Artists and designers will play an important part in the future of every business, said Azzolino, whose company employs five SCAD students. These types of skills are needed even where least expected, said Crawford, who uses computer design to choose and create different types of fabric for Liz Claiborne clothes. Davis said artistic talent is used on a daily basis at Southern Living, through the work of illustrators, photographers and designers.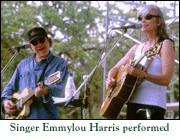 First-place student winner Brian Main, who painted a chalk portrait of his girlfriend, also believes that the skills of artists are as important as those of other professions.
"I think you can measure a civilization or society by the way they treat their artists," said Main, a senior in illustration. "I wish people would take a step back and look at art and illustration again. I think it's something that can bring families together."
The portrait he did for the festival was an example of the close bond that can be shared through artwork, he said. Although he said it wasn't his best work, having his girlfriend, who attended the festival for the first time April 24, as the subject was very meaningful.
"I have a girlfriend who was nice enough to pose. She is my inspiration," Main said.
The win was also meaningful because this is Main's last year at SCAD; he graduates in May. Main plans to move to Vienna, Austria, with his girlfriend and work as a freelance illustrator. His ultimate career goal is to have his own studio and continue work as a freelance illustrator.
Although Main would like to see more attention paid to the arts, he said he doesn't expect the same recognition illustrators enjoyed in the early 1900s when they were hailed as icons because they provided the majority of entertainment for Americans.
"I think illustrators are just happy to do what they do," Main said. "I don't think anyone does it for the glory."
Blass, whose museum concentrates on living American artists, said that art isn't just looking at paintings and revering a special few. Through education, community outreach and on-line services, the Whitney Museum tries to bring art to a level that anyone can enjoy and understand, she said.
Part of helping people believe and recognize that art is accessible to them is to show them how the resources in their community provide a gateway to artists and their talents, she said.
"SCAD and other colleges like it are the future of American art," Blass said. "These students could be the artists we feature in later exhibitions."

Sidewalk Arts Festival '99 winners:
---
Student Winners

---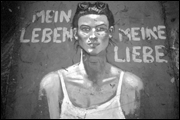 First Place: Brian Main

Second Place: Tom Schaefer

Third Place: Mike Creighton (picture not available)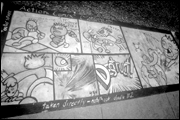 Group Category: Brian Bacin, Joseph Dross, Matt Neill and Anthony Lopes

---
Alumni Winners

---
First Place: Troy Wingard, Scott Kirchner and Stan Jennings
Second Place: Mitchell McKell
Third Place: Katherine Sandoz
---
Prospective Student Winners

---
First Place: Jesse Hulcher, Montgomery Ala.
Second Place: Matt Burkhalter, Statesboro
Third Place: Travis Edenfield, Glen Saint Mary, Fla.

Also see:
Sidewalk Arts 2000 preview
Sidewalk Arts 1998 photograph

Home | Contact Us | Sitemap | FAQ | Subscribe | Survey
(c) Copyright 1999. The Georgia Guardian. All rights reserved.
No photo may be reproduced without our written permission.