The Georgia Guardian's arts & entertainment photo gallery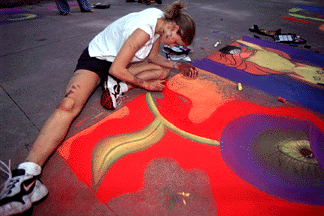 8/14/98 issue
Guardian staff photo by Richard Rodriguez

Bright colors were everywhere as talented students and alumni came out to show
their artistic skills during the popular SCAD Sidewalk Arts Festival.
Want to read more about Sidewalk Arts?
Sidewalk Arts 2000 preview
Sidewalk Arts 1999

Copyright 1998 Georgia Guardian. All rights reserved.
No picture may be reproduced in any way without our permission.
Go back to the a&e photo gallery

Go to the Georgia Guardian Main Page
Go to the gallery main page