Beep ball a big hit for players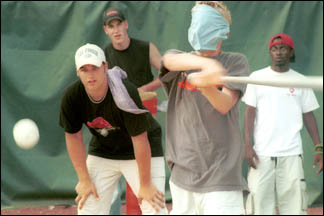 Photos by Sandra Mudge
Robbie Smith takes a big swing at beep ball during July 5 action at Grayson Stadium.


Area athletes who are totally or partially visual impaired participated in the Beep Baseball game sponsored by the Savannah Lions Club at Grayson Stadium. The baseball used in the contest has a beeping mechanism in it, which helps the athletes (who are blindfolded) hear the ball advancing toward them.
"More than 2,500 tickets were donated by the Sand Gnat organization to different organizations," game director and Lion Club member, Gus Carellas said. "We sponsor these games annually. It is used to support the Lions Club athletic facility for the blind in Waycross."
Clarence Wilson can be reached at 525-5500 or by e-mail at cwilson@georgiaguardian.com.

Home | Contact Us | Sitemap | FAQ | Subscribe | Survey
Copyright 2000 Georgia Guardian. All rights reserved.