Now Playing in Savannah Theaters:
July 14-20, 2000
Click on each movie's name to go to the official site
Opening July 7: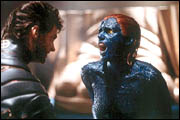 X-Men (PG-13). Adapted from the most popular Marvel comics of the 1990s, The X-Men are a group of genetic mutants with amazing abilities, brought together and trained by the world's most powerful telepath, Professor Charles Xavier (Patrick Stewart) to help fight for his dream - a world where the mutant minority and human majority can live together in harmony - to be judged not by the fancy powers they posess, but by the content of their character. However, the Mutant Master of Magnetism, Magneto (Ian McKellen), scarred by the human brutality he's experienced, has come to believe the mutant race is superior to humanity, and should rule over them as their betters, and he's amassed a brotherhood of like-minded mutants to help achieve his goals by any means necessary. With anti-mutant sentiment prevailing at every turn, the X-Men strive to protect the very humans that fear and hate them. Stars Stewart, McKellen, Halle Berry, James Marsden and Famke Janssen.
Previous week's movie releases: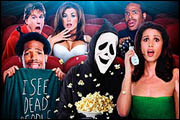 Scary Movie (R). Stars Shannon Elizabeth, Shawn Wayans, Marlon Wayans, Carmen Electra and Cheri Oteri.
(Pictured at right)

Disney's The Kid (PG).
Stars Bruce Willis.



~ Savannah movie theaters ~
Call for times and listings.

Carmike Cinemas
511 Stephenson Ave.,
353-8683
Shows starting after 10:45 p.m.
are Friday and Saturday only.

Cinema Grill
Oglethorpe Mall - 355-8100
For best service, arrive 15-30 minutes
before the movie begins.

Eisenhower Cinemas
1100 Eisenhower Drive - 352-3533

Savannah Mall 10
1122 Shawnee St., 927-7700

Victory Square Cinemas
3001 Skidaway Road, 355-0110

Westside Cinemas
403 E Highway 80,
Westside Shopping Center
Garden City - 966-9101

Wynnsong Cinema 11
1150 Shawnee St.920-1227
Related links:
Click to view the latest trailers for movies




Sitemap | Subscribe | Survey | FAQ | Contact Us
Copyright 2000 Georgia Guardian. All rights reserved.