The Georgia Guardian's news photo gallery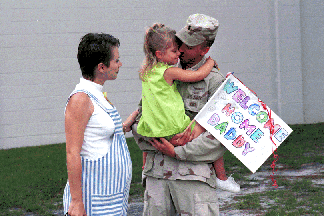 6/19/98 issue
Guardian staff photo by Russ Bryant

First Lt. John Davis was reunited with this wife Tracy and daughter
McKenzie June 19 after his returnfrom Kuwait. Members of the Guardian staff went to Kuwait
to cover our local soldiers on delpoyment during operation Desert Shield.


Copyright 1998 Georgia Guardian. All rights reserved.
No picture may be reproduced in any way without our permission.
Go back to the news photo gallery

Go to the Georgia Guardian Main Page
Go to the gallery main page