Need romantic ideas? Read our top 10 lists

Valentine's day feature:
Riding to Romance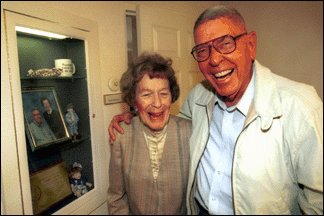 Photo by Russ Bryant
Doris and Chester Ballengee are as in love today as they were when they married
three years ago. Doris has Alzheimer's, but remembers their courtship fondly.
By Christina Taylor
(from the 2/11/00 issue)

Chester Ballengee loves to talk about his wife, Doris. Even though they are both 79 years old, their whirlwind romance is still fresh and exciting. Doris loves to listen to him. After all, they've only been married for three years.
What is more surprising is that the couple can still share such a memory. Doris has Alzhiemer's disease.
During the early phases of Alzhiemer's, patients lose their short-term memory. Recent events fade soonest. Although Doris' case is not very advanced, she does lose words and has trouble keeping up with a conversation.
But when Chester tells their love story, she perks right up, adding commentary, dabbing her eyes with a tissue and throwing loving glances his way.
It all started about four years ago. When Chester's first wife died after a four-year illness, he signed up for a trip around the world. He needed to get away, to put things in perspective. The last thing he expected was another romance.
"The boat docked in Israel and we got off and I got on a bus," he said. "When I got on the bus, a lady sat down and that's my wife."
From Israel, the couple traveled to Singapore and eventually back to their homes in the United States.
As Chester spoke, Doris looked over at him and smiled, cheeks moist with a few stray tears.
"It was so lovely," she said.
Since Doris was from Ohio and he was from Georgia, the romance turned into a long-distance affair.
"The phone bills got pretty high," Chester said.
After a few visits, Chester decided to introduce Doris to his children.
"After we went through all this routine of meeting all the kids, we decided that we'd like to ride around a while," he said.
"And here we are," Doris added.
For the first couple years, Chester and Doris traveled together, re-visiting Israel and seeing new places.
Then both developed health problems. To alleviate the care burdens they were placing on each other, they moved into the Savannah Commons assisted living facility.
A few months ago, Doris had to move from assisted living into the Arboretum, a special facility for Alzheimer patients. Although Chester and Doris live in different buildings, they still find time to see each other.
"More than not, I come over here every day," Chester said.
On weekends and afternoons, they continue their tradition of traveling together.
"We've burned a lot of gas, put a lot of miles on the car," Chester said. "We haven't been all the way down to Florida, but almost."
Despite their short marriage, both Chester and Doris have decided that their trip together is for the duration.
Need romantic ideas? Read our top 10 lists
Sitemap | Subscribe | Survey | FAQ | Contact Us
Copyright 2000 Georgia Guardian. All rights reserved.