The Georgia Guardian's news photo gallery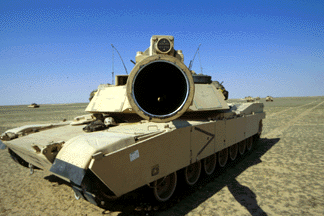 6/19/98 issue
Guardian staff photo by Russ Bryant

M1A1 tanks from the Third Battalion, 69th Armored Division from Fort Stewart were deployed to
Kuwait in April to face Saddam Hussein. The Guardian was there to photograph it.


Copyright 1998 Georgia Guardian. All rights reserved.
No picture may be reproduced in any way without our permission.
Go back to the news photo gallery

Go to the Georgia Guardian Main Page
Go to the gallery main page