Sand Gnats play to a full house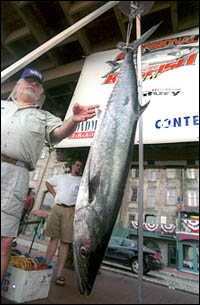 Photos by Richard Rodriguez
Weighmaster Bob Flocken weighs in a
king mackerel during the event July 7-8.

On the surface, a 30-pound fish doesn't stand much of a chance against three men, a boat and a powerful engine. At 64 pounds, even the largest king mackerel ever caught in Georgia faced long odds.
Against 600 men and women, all their boats, space-age electronics and more than $100,000 in motivation, what chance does a poor fish have?
Slim and none, unless he runs really deep.
At least, that's what the pros from the Southern Kingfish Association were counting on when they came to Savannah July 7-8 for a two-day Yamaha Professional Kingfish Tour event sponsored by the SKA.
The husband and wife team of Dan and Angelique Nichols hooked a 27.3-pound king mackerel Friday and a 28.2-pounder Saturday aboard their boat, Reel Nauti, to win the pro event with a two-day aggregate total of 55.5 pounds. While there were no record catches this year, the Nichols still took home more than $30,000 in cash.
Randy Keys from Madiera Beach, Fla., took second place with a 53.2 aggregate in La Perla, while Team Creative skipper Ron Kien from Tampa took third with a 51.9 point total.
David Van Lent from Belleair Beach, Fla., took fourth place in Yellowfin with a 51.9 total. Greg Holmes of Myrtle Beach, S.C., rounded out the top five in Fish'd in with 50.9 points.
Danny Mathis' Cat Daddy from Gonzalez, La., had the lead after Friday's first round with a 33.6-pound catch, followed by Mike Jones in 1/2 Lit from Wrightsville Beach, N.C., with a 31.4 pound fish.
In addition to the Yamaha pro tournament, SKA sanctioned a one-day Coastal Empire divisional king fish tournament open to all comers. According to SKA spokesman Sam White, the Mean C team, captained by Buddy and Field Hucks from Myrtle Beach, S.C., won the local event with a 35.1 pound king mackerel. The Mean C is a 36-foot Contender powered by three 250-horsepower engines, with top speeds above 70 mph.
The 7,000-member SKA was formed in 1991 and is sponsored by leading boat and marine-engine manufacturers. Sid Steverson, the SKA's chief executive officer, said the SKA is comprised of 10 geographic divisions, from Texas around the Florida coast and north to Cape Hatteras, N.C. Members compete for points, compiling one point per pound per fish they weigh in at a tournament. The division winner receives an expenses-paid trip to the national championship tournament in November. The top 15 boats from each division also are invited to the national tournament at their own expense. The winner is crowned as the national champion.
The first tournament of the 2000 season was held in January in Key West, Fla. Savannah was the second stop. From here the crews head north to Murrells Inlet, S.C., before motoring south to Biloxi, Miss. The final event of the divisional season will be held in Moorehead City, N.C., where angler-of-the-year honors are at stake.
Clarence Wilson can be reached at 525-5500 or by e-mail at cwilson@georgiaguardian.com.
Home | Contact Us | Sitemap | FAQ | Subscribe | Survey
Copyright 2000 Georgia Guardian. All rights reserved.