The Georgia Guardian's news photo gallery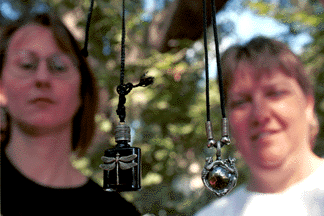 10/23/98 issue
Guardian staff photo by Richard Rodriguez

Kathy Thomas and Beth Ronberg show off their pendulums which they believe can help
them communicate with spirits. They are members of the Savannah Searchers, a group dedicated
to researching the presence of spirits at various locations throughout the city.


Copyright 1998 Georgia Guardian. All rights reserved.
No picture may be reproduced in any way without our permission.
Go back to the news photo gallery

Go to the Georgia Guardian Main Page
Go to the gallery main page