Award-winning Photo
Staff photographer Richard Rodriguez takes third place
in Georgia Press Association's 1999 Better Newspaper Contest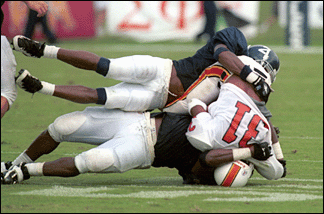 Richard Rodriguez, Sports Photograph - Third Place.
Judges' comments: "This is a nice shot. You captured the moment
that bodies are flying and the players landing on their heads."





Copyright 1999 Georgia Guardian. All rights reserved.
No picture may be reproduced in any way without our permission.