Award-winning Photo
Staff photographer Richard Rodriguez takes first place
in Georgia Press Association's 1999 Better Newspaper Contest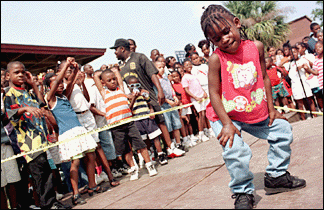 Richard Rodriguez, News Photograph - First Place.
Judges' comments: "The photo is fantastic. The little girl is really
getting into what she's doing. The angled frame and the inclusion
of the crowd in the background make this a winner."





Copyright 1999 Georgia Guardian. All rights reserved.
No picture may be reproduced in any way without our permission.