"Pineapple Galore"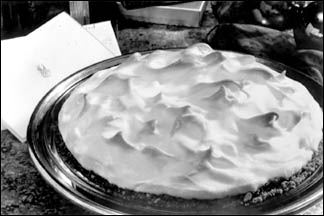 The pineapple meringue pie is an alternative to the traditional
lemon meringue, and uses egg whites to build its lofty topping.
---

Pineapple meringue pie

---

Ingredients:
Crust
1 cup graham cracker crumbs
1/4 cup sugar
1/4 cup chopped almonds
1/4 cup butter, melted

Pineapple filling:
1 cup sugar
6 tablespoons cornstarch
1 can or 1 pound, 4 ounces crushed pineapple in juice
Water
3 eggs, separated
3 tablespoons butter

Meringue topping:
Reserved egg whites
1/4 cup teaspoon cream of tartar
3 tablespoons sugar

Preheat oven to 350 degrees. To prepare crust: In a small bowl, stir together crumbs, sugar, almonds and melted butter. Press evenly over bottom and sides of a nine-inch pie pan. Bake until set, about six to eight minutes. Let cool.

To prepare filling: In a two-quart microwaveable bowl stir together sugar and cornstarch. Drain pineapple; reserve juice in two-cup microwaveable measuring cup. Add enough water to juice to make 1 1/4 cups. Heat in microwave on high for three to four minutes, or until boiling. Stir hot juice mixture into sugar mixture and whisk until smooth. Cook in microwave on high for three to four minutes or until thickened, whisking twice. In medium mixing bowl, whisk yolks until foamy. Stir about 1/4 cup of the hot sugar mixture into the yolks. Whisk until well-blended. Then stir yolks into the remaining sugar mixture, whisk until smooth. Heat in microwave on high for two to three minutes or until internal temperature reaches 160 degrees. Whisk until smooth. Add 3 tablespoons butter. Stir until melted. Stir in crushed pineapple until well blended. Pour filling into prepared crust.

To prepare meringue: In clean large glass or metal mixing bowl, beat three egg whites until soft peaks begin to form. Gradually beat in cream of tartar and sugar, and beat until peaks are stiff but not dry. Spread meringue over hot pie filling. Be sure to cover filling completely at the edges. Return pie to oven to bake until evenly browned, about 12-15 minutes. Cool and serve.

Makes eight servings.