"Spice it up"
Eggs can add to the flavor of ethnic foods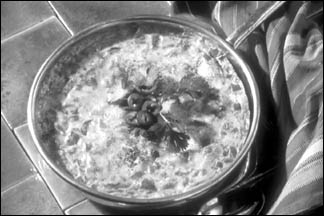 Photo courtesy of the Georgia Egg Commission
The Mexican corn and chili bake recipe is
one way to use eggs in a spicy, international dish.
Spicy dishes don't necessarily need to start with chili, some start with eggs.
According to Kimberly Jack, nutritionist with the Georgia Egg Commission, eggs are easily adaptable in ethnic cuisine.
Asians make egg drop soup by stirring beaten eggs into boiling chicken broth. Adding green onions, tofu, sesame oil and soy sauce will enhance the Oriental flavor, Jack said.
A classic Thai dish includes flavoring fried rice with smoky bacon, ginger and garlic, topped with fried eggs, she said.
Mexican corn and chili bake (recipe follows), along with some fresh fruit, makes a great brunch, Jack said. Served with a salad of leaf lettuce, avocado, orange slices and some hard rolls can be a hearty luncheon or light supper, she added.
For more egg recipes or food safety brochures, send a self addressed, stamped envelope to the Georgia Egg Commission, 16 Forest Parkway, Forest Park, Ga. 30297. The Georgia Egg Commission can also be accessed on the Internet at www.georgiaeggs.org.
---
Mexican corn and chili bake

---
Ingredients:
Cooking spray
1 can (15 1/2 ounces) whole kernel corn, drained
1/2 cup chopped sweet red pepper
3 tablespoons chopped green chilies
3 tablespoons yellow cornmeal
2 teaspoons chili powder
4 strips bacon, cooked and crumbled
4 eggs, beaten
1 cup non-fat milk
Preheat oven to 375 degrees F. Spray 8-inch oven-proof skillet or 8-inch square baking pan with nonstick spray. In medium mixing bowl, stir together corn, pepper, chilies, cornmeal and chili powder. Spread evenly into prepared skillet. Sprinkle with bacon. In same mixing bowl, beat together eggs and milk until well-blended. Pour over corn mixture. Bake until golden brown and knife inserted in center comes out clean, about 30-35 minutes. Hint: For spicier flavor, used chopped jalapenos or other hot peppers instead of, or in addition to, chilies. Makes 4 servings.