"Restaurant's new recipes
make for subtle summer fare"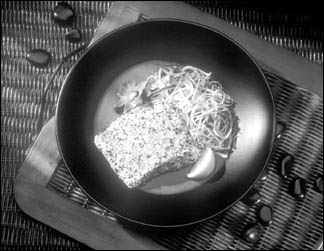 Photo courtesy of the Chart House
Sesame crusted salmon, one of the latest additions to the menu at the Savannah
Chart House, uses a mixture of flavor, color and texture to create an appealing entree.

From Staff Reports

Established in Aspen, Colo., in 1961, Chart House has recently made a push away from its nautical image to update both its decor and menu.
The first line of changes in Savannah is noticeable when one walks through the door - instead of floral-printed shirts, the waitstaff now wears button-down oxfords and khaki pants.
"You'll notice the comfortable chairs, it's just a whole different atmosphere," said Jim Avrea, general manager of the Savannah Chart House. "The ambience of the restaurant is much more sophisticated."
Menu items, too, have grown up, with the company using Chicago restaurateur Rich Melman and Lettuce Entertain You Enterprises to emphasize more seafood items. Both the Grilled Ahi Tuna Chop and Sesame Crusted Salmon (recipes follow) have been served at the Savannah Chart House since November. The more than 50 other Chart Houses across the United States have also made the changes.
"The biggest compliment I get from people now is about the new dishes," Avrea said. "We still make everything from scratch - from sauces to desserts. We cut our own meats and bring in fresh fish daily."
Two months ago, the Savannah Chart House also brought in Ryan Raney as manager. Raney, who oversees every aspect of cooking at the restaurant, started as a dishwasher at a country club and worked his way up to an in-house chef at the Chart House in Naples, Fla.
"I like a lot of classic fresh food," said Raney, whose specialty is French cuisine. "There are a lot of nice restaurants here and Chart House is within the top five I've encountered in the area."
---
Chart House's grilled ahi tuna chop

---
Marinade:
3 14 ounce cans of unsweetened coconut milk
1 15 ounce can of Coco Lopez
1 1/2 cups of Kikkoman Light soy sauce
2 cups of Meyers Rum
2 tablespoons ground cinnamon
5 star anise
Mango relish:
12 ounces mangoes (peeled and diced into cubes)
1/2 cup red onions (diced into cubes)
2 tablespoon red pepper (diced into cubes)
1/2 jalapeno (minced and seeded)
1 ounce fresh lime juice
1/2 cup fresh cilantro (chopped)
1/8 teaspoon kosher salt
1/8 teaspoon freshly ground black pepper
1 tablespoon rice wine vinegar
12 8 ounce steak cut tuna chops
Combine all marinade ingredients in a saucepan and mix. Bring to a boil then reduce to a simmer. Continue to simmer, stirring often, until mixture reduces by one quarter. Cool in an ice bath.
Once cooled add tuna chops and marinate in the refrigerator for 24 hours.
Combine all relish ingredients in a mixing bowl and mix well.
Remove tuna chop from marinade. Grill tuna chop over medium-high heat until medium rare.
Place 3 ounce of mango relish on a plate, place tuna chop on top and serve. Makes 12 servings.

---
Chart House's sesame crusted salmon

---
Salmon sauce:
2 teaspoons garlic (chopped)
1 teaspoon shallots (chopped)
1 teaspoon fresh ginger (chopped)
2 tablespoons brown sugar
1 teaspoon black pepper
1 tablespoon cilantro (chopped)
1/2 cup sesame oil
1/4 cup soy light (Kikkoman)
1/4 cup water
1/2 cup sake
3 tablespoons peanut butter
1/2 cup rice vine vinegar
3 tablespoons coconut milk
Salmon vegetables:
2 carrots (large, matchstick julienne)
1 1/4 cups snow peas (thinly sliced)
2 green zucchini (large, matchstick julienne)
2 yellow squash (large, matchstick julienne)
1 head bok choy (large, coleslaw cut)
Sesame salmon:
4 8 ounce salmon fillet (steak cut)
2 cups salmon sauce
1 1/4 cups white sesame seeds (toasted)
6 tablespoons black sesame seeds
2 tablespoons vegetable oil
Combine all salmon vegetable ingredients and mix well. Combine all salmon sauce ingredients and mix well. Set aside 12 ounce of salmon sauce to be used with vegetables at a later time.
Marinate fillets in remaining salmon sauce mixture for approximately 5 minutes.
In a separate bowl, blend black and white sesame seeds.
Take marinated fillets and coat all sides with the sesame seed mixture.
Place fillets on well-coated sheet pan (use PAM cooking spray or other pan coating spray).
Place in preheated 350-degree oven for 10-12 minutes.
While salmon is baking, sauté vegetables in vegetable oil until slightly tender. Plate vegetables.
Place salmon on top of vegetables with a drizzle of heated salmon sauce and serve. Makes 4 servings.
The Chart House restaurant is located at 202 West Bay Street in Savannah
and can be reached at (912) 234-6686.