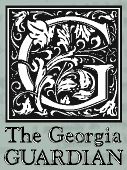 "Fill up on home cooking"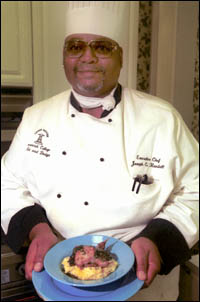 Photo by Russ Bryant
Chef Joe Randall shows off his stuffed quail and
creamy grits appetizer that uses collard greens in an elegant dish.

From staff reports

Chef Joe Randall's latest four course meal starts with stuffed grilled quail and ends with dinner guests stuffed full of good home cooking.
Leftover collard greens can be turned into an elegant appetizer when stuffed into grilled quail with creamy grits, Randall said.
The complete meal comes from his book, "A Taste of Heritage: New African-American Cuisine." This includes the appetizer, grilled quail stuffed with collard greens on creamy grits (recipe follows); salad, mixed baby lettuce and fried chicken tenders with corn fritters and buttermilk dressing (recipe follows); main course, roasted rack of pork wit Madeira jus lie (recipe follows), oven-roasted new potatoes, Mom Pan's string beans and Mom Pan's apple sauce; dessert, crepes with country fried apples and brandy custard sauce; and country cornbread.

---
Grilled quail stuffed
with collard greens on creamy grits

---
8 whole quail, breastbones removed
2 tablespoons olive oil
Salt and freshly ground black pepper, to taste
1 1/2 cups southern collard greens
1/2 cup chicken stock
2 tablespoons red currant jelly
1/4 teaspoon dried red pepper flakes
3 cups cooked creamy grits

Creamy grits:

1 quart water
1 teaspoon salt
1/2 teaspoon white pepper
1/4 cup butter (1/2 stick)
1 cup stone-ground or quick grits
1 cup heavy cream

For grits: Bring water, salt, pepper and butter to a boil in a saucepan. Gradually stir in grits, cover and cook for 35-40 minutes, stirring occasionally. Add cream and cook for 5-6 minutes longer, being careful not to burn. Serve hot. Preparation time is 20 minutes. Makes eight servings.

For appetizer: Preheat oven to 375 degrees. Rub the quail with oil and season them inside and out with salt and pepper. Place the quail on the rack of a large roasting pan. Roast for 15-20 minutes or until the juices are clear. Remove the quail from the oven and set aside to cool. Stuff each bird with 4 tablespoons of cooked southern collard greens. Preheat the grill until white ash forms on top of coals or preheat the broiler to high. Place broiler pan under broiler to heat. Start reducing the sauce after the birds are placed in the oven. In a small saucepan, bring the chicken stock, jelly and red pepper flakes to a boil. Reduce until syrupy or until it coats the back of a spoon, about 1 hour. Meanwhile, grill the quail evenly over medium hot coals, basting with syrup until thoroughly cooked, four to five minutes, each side. Perch each quail on a bed of creamy grits and serve immediately. Preparation time is one hour. Makes eight servings.
---
Mixed baby lettuce and fried chicken tenders
with corn fritters and buttermilk dressing

---
1 1/2 cups all-purpose flour
1 1/2 teaspoons salt
3/4 teaspoon freshly ground black pepper
3/4 teaspoon cayenne pepper
3 cloves garlic, minced
1 1/2 teaspoons paprika
3/4 cup buttermilk
3/8 cup water
1 1/2 cups peanut oil, for frying
4 whole chicken breasts, boneless, skinless and cut into 1/4-inch strips
4 cups mesclun baby lettuces
2 cups buttermilk dressing
24 each corn fritters

Corn fritters:

3/4 cup milk
1 tablespoon melted butter
3 eggs, lightly beaten
1 cup all-purpose flour
1/2 teaspoon salt
1/8 teaspoon white pepper
1 teaspoon baking powder
1 cup corn kernels, freshly cut
Peanut oil, for frying
1/2 tablespoon powdered sugar

For fritters: Beat milk and butter into eggs. Sift together flour, salt, pepper and baking powder and stir until smooth. Add the corn and continue stirring. Heat oil to 350 degrees. Spoon about 1/8 cup of the batter into hot oil and fry until golden brown. Drain on brown paper bag and serve hot, sprinkled with powdered sugar.

For salad: Place eight salad plates in the refrigerator to chill. In a bowl, combine the flour, salt, black pepper, cayenne and paprika. In a separate bowl, thoroughly mix the buttermilk and water. Heat the peanut oil in a large skillet over medium heat, add garlic. Dip the chicken strips in the buttermilk mixture and dust them with the seasoned flour. Fry the strips in two batches in the hot oil for three to four minutes on each side or until golden brown. Remove the strips from the skillet and drain them on paper towels. Keep them warm in a 200 degree oven until ready to serve. In a large bowl, toss the baby greens with 2 tablespoons of buttermilk dressing. Divide the dressed greens evenly among the chilled salad plates and top them with chicken strips. Arrange three to four corn fritters around each salad. Serve immediately. Preparation time is 45 minutes. Makes eight servings.

---
Roasted rack of pork wit [sic] Madeira jus lie, oven-roasted new potatoes

---
2 each pork rib racks, 8 ribs french cut
1/2 cup freshly chopped sage leaves
1/4 cup minced garlic
1/2 teaspoon freshly ground black pepper
1/2 teaspoon cayenne pepper
2 teaspoons paprika
1 tablespoon water
1/2 cup Madeira wine
2 tablespoons softened butter
Salt and pepper to taste

In a small bowl, mix garlic and sage, 1 teaspoon salt, black and cayenne pepper, paprika and 1 tablespoon water to make a paste. Rub evenly over pork, then place racks, fat side down, in a roasting pan. Roast in a preheated 350 degree oven for 25 minutes. Turn the bone side down and finish cooking an additional 20 minutes. Remove rack from oven, set aside for 15 minutes before slicing. Strain pan juices and degrease. Place pan over medium high heat and deglaze pan with Madeira, cooking until reduced by half. Add strained juices and simmer two to three minutes. Stir in butter to finish sauce. Season with salt and pepper to taste. Place three slices of pork and arrange on plate. Preparation time is two hours. Makes eight servings.