Like Emeril says, pork rules!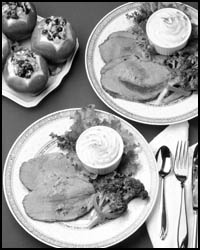 Pork can be a quick, easy treat for people on the go.

From Staff Reports
Although a staple of Southern cooking, pork appears in recipes of every variety and culture. Here are a few preparation suggestions.
---
Pork medallions with sautéed apples

---
Ingredients:
1 pound trimmed pork tenderloin
3/4 teaspoon salt
3/4 teaspoon paprika
3/4 teaspoon dried thyme leaves
1/4 teaspoon freshly ground black pepper
Garlic-flavored cooking spray
1/4 cup sliced shallots
2 medium red apples, unpeeled, cored and cut into 1/4-inch wedges
2/3 teaspoons cornstarch
1/4 cup apple cider or juice


Preheat broiler or ridged grill pan. Cut pork crosswise into 1-inch think slices. With the heel of you hand, press meat into 1/2-inch-think medallions. Combine salt paprika, thyme and pepper; sprinkle over both sides of medallions. Coat pork with cooking spray. Broil 4 inches from heat source 4 minutes per side or until cooked through. Or cook in a grill pan over medium heat about 4 minutes per side.

Meanwhile, coat a large nonstick skillet with cooking spray. Add shallots; sauté over medium heat 3 minutes. Add apples; sauté 2 minutes. Combine broth and cornstarch; mix well. Add to pan with cider. Simmer uncovered, stirring occasionally, 5 minutes or until apples are tender and sauce thickens. Place pork on warmed plates; top with apple mixture. Makes 4 servings.

---
Orange-rosemary pork tenderloin

---
Ingredients:
3 pork tenderloins (about 10 ounces each)
4 garlic cloves
4 sprigs fresh rosemary
1/2 teaspoon salt
1/2 teaspoon freshly ground black pepper
2 tablespoons vegetable oil
1/2 cup low-sodium chicken broth
1 ounce (2 tablespoons) dry white wine, or increase broth by 2 tablespoons
1/4 cup plus 2 tablespoons orange all-fruit spread

Broil tenderloins 2 minutes, turning once. Preheat oven to 350 degrees

In a mini food processor, combine garlic, rosemary, salt and pepper; process until finely chopped. Add oil; process until mixture forms a paste.

Place pork on rack in roasting pan; spread with garlic mixture. Pour broth and wine into bottom of pan. Roast, basting occasionally, 20 minutes. Brush pork with orange spread; roast 10 minutes longer, until meat thermometer registers 160 degrees. Let stand 10 minutes before carving into 1/4-inch slices.
---
Fresh spring rolls

---
From the "Far East Café"
Ingredients:
Fish sauce and lime dipping sauce (see below)
3-4 oz dried thin rice stick noodles
Boiling water, as needed
3/4 lb. boneless pork loin, in one piece
Salt
12 large shrimp (prawns), peeled and deveined
12 dried large rice paper rounds, each 8 1/2 inches in diameter
12 large red-leaf lettuce leaves or other soft, pliable lettuce, stiff stems discarded.
1 large carrot, peeled and finely julienned, then tossed with 1 teaspoon sugar until softened, about 10 minutes
1 small English (hothouse) cucumber, peeled and finely julienned
12 fresh mint springs
12 fresh cilantro sprigs, plus extra leaves for filling
1 tablespoon coarsely chopped dry-roasted peanuts
Prepare the dipping sauce (see below); set aside
Place the noodles in a bowl and add boiling water to cover. Let stand for 1 minute. Drain, rinse with cold water, drain again and set aside.
Place the pork in a saucepan, add water to cover and salt to taste. Bring to a boil. Cover, reduce the heat to medium-low and simmer until opaque throughout, about 20 minutes. Drain and let cool. Cut across the grain in to very thin slices, about 2 inches long and 1/2 inch wide. Set aside.
Bring a saucepan three-fourths full of water to a boil. Add salt to taste and the shrimp. Boil until they curl slightly and are opaque throughout, 1-2 minutes. Drain and rinse with cold water. Cut each shrimp in half lengthwise, pat dry and set aside.
To prepare the rice papers, dampen several clean kitchen towels with water. Fill a pie plate with cold water. Spread a damp towel on a flat work surface. Dip 1 rice paper round at a time into the water and spread it flat on the towel. Continue dipping and lying rice papers in a single layer. When you run out of room, lay a damp towel on top of the round and continue, always alternating a layer of rice papers with a damp towel. Let the rice papers stand until pliable, about 1 minute or longer.
To assemble, place 1 pliable rice paper round on the work surface and position a lettuce leaf on the lower third of it, tearing the leaf as needed to make it fit and leaving uncovered a 1-inch border on the right and left edges. Take a small amount of the rice stick noodles and spread in a line across the width of the leaf. Arrange one-twelfth each of the pork slices, carrot and cucumber, and 1 sprig of mint on the noodles. Fold the bottom edge of the rice paper over to cover the ingredients, then roll up tightly one complete turn. Fold in the cilantro and 2 pieces of shrimp, end to end and cut side down. Finish rolling up the rice paper with a damp towel. Make the remaining rolls in the same way. The rolls may be made several hours in advance; cover with a damp towel and plastic wrap and refrigerate. Bring to room temperature before serving.
Divide the sauce among individual dipping saucers and then divide the peanuts evenly among the saucers. Serve the rolls with the sauce.

---
Fish and lime dipping sauce

---
From "Far East Café"
Ingredients:
1 clove garlic, finely minced
1 fresh small red chili pepper, seeded in finely minced
1/4 cup sugar
1/4 cup fresh lime juice, including pulp
5 tablespoons Vietnamese or Thai fish sauce
1/2 cup water

In a mortar, combine the garlic, chili and sugar and mash with a pestle to form a paste. Add the lime juice and pulp, fish sauce and stir to dissolve the sugar.
Strain the sauce into a bowl or jar and use immediately. Or, cover tightly and refrigerate for up to 5 days.