"Hot, hot and hotter"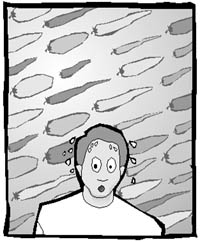 Illustration by Glen Osterberger

From Staff Reports
These recipes will put a tingle in your mouth and a fire in your belly. We suggest a tall, cool glass of water and not-too-delicate tastebuds. Eat at your own risk.

---
Cajun fettucine

---

From Bob's Red Hot Recipes


Ingredients:
3 cups cooked spinach fettucine
1/4 pound butter
1 tablespoon chopped garlic
1/4 cup chopped green onions
1/4 cup sliced mushrooms
1/2 cup diced tomatoes
1/2/ cup diced andouille
1/2 cup 50 count shrimp, peeled and de-veined
1/2 cup lump crabmeat
1/2 cup cooked crawfish tails
1 ounce dry white wine
1 tablespoon lemon juice
1 cup heavy whipping cream
1/4 cup diced red bell pepper
1/4 pound chipped cold butter
1 tablespoon chopped parsley
Salt and cracked black pepper to taste


In a two-quart heavy bottom sauce pan, melt butter over medium high heat. Add garlic, green onions, mushrooms, tomatoes and andouille. Sauté three to five minutes or until all vegetables are wilted. Add shrimp, crabmeat and crawfish. Cook for an additional ten minutes. Deglaze pan with white wine and lemon juice and continue cooking until volume of liquid is reduced to one half. Add heavy whipping cream and, stirring constantly, reduce until cream is thick and of a sauce like consistency, approximately five minutes. Add diced red bell pepper and chipped butter, two to three pats at a time, swirling pan constantly over burner. Do not stir with a spoon, as butter will break down and separate if hot spots develop in the pan. Continue adding butter until all is incorporated. Remove from heat; add parsley and season to taste using salt and pepper. Gently fold in cooked fettuccine and serve. May be chilled and served as a cold pasta salad.

---
Southwestern chicken pie

---
Mad Cow's recipe of the month

Ingredients:
1 package refrigerated pie crusts (15 ounce)-softened as directed on package
1 (9 oz) package frozen cooked southwestern seasoned chicken breast strips, thawed, cut into bite sized pieces
1/2 cup uncooked instant white rice
1 (15 oz) can black beans, drained, rinsed
1 (11 oz) can whole kernel corn and red & green peppers, drained
1 (2 1/4 oz.) can ripe olives, drained
1 teaspoon garlic powder
1 teaspoon cumin
1/2 teaspoon salt
1/2 teaspoon pepper
1 cup sour cream
1 cup salsa
8 ounces (2 cups) shredded Colby Jack cheese blend
1 egg, beaten
1-2 teaspoons chopped fresh parsley

Heat oven to 400 degrees. Prepare pie crusts as directed on package for two crust pie using 9-inch pie pan. In large bowl, combine all remaining ingredients except egg and parsley. Mix well. Pour into crust-lined pan. Top with second crust and flute: cut slits in several places. Brush top with beaten egg: sprinkle with parsley. Bake at 400 degrees for 38 to 48 minutes or until golden brown. Cover edge of crust with strips of foil after 15 to 20 minutes of baking to prevent excessive browning. Let stand 5 minutes.