"A berry seasonable fruit"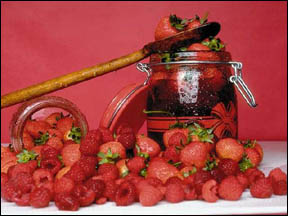 From Staff Reports

---
Strawberry-blue cheese salad

---
From Ketchum Kitchen at www.recipe.com
Ingredients:
8 cups lightly packed, torn butter lettuce
1 pint basket (12 to 14 ounces) strawberries, stemmed and sliced 1/3 inch thick
1/3 cup coarsely chopped red onion
Orange Vinaigrette (recipe follows)
6 tablespoons whole pecans, toasted
6 tablespoons crumbled blue cheese

In large bowl, toss lettuce, strawberries, onion and orange vinaigrette. Divide equally on six salad plates. Top each serving with 1 tablespoon pecans and 1 tablespoon blue cheese.
For orange vinaigrette: In small bowl, whisk 3 table spoons vegetable oil; 1 1/2 table spoons white wine vinegar; 1 1/2 tablespoons thawed frozen orange juice concentrate; 1 tablespoon honey; 1/2 teaspoon salt and 1/4 teaspoon coarsely ground black pepper.

---
Fresh strawberry salsa

---
From Ketchum Kitchen at www.recipe.com
Ingredients:
3 tablespoons chopped red onion
2 tablespoons basalmic vinegar
2 tablespoons orange juice
2 tablespoons chopped Italian parsley leaves
1 tablespoon honey
1 1/2 teaspoons Dijon-style mustard
1 teaspoon grated orange peel
1 to 2 teaspoons minced fresh or canned jalapeno chili
1 pint basket strawberries, stemmed and diced
2 tablespoons raisins (optional)
Salt, to taste

In medium bowl, whisk all ingredients except strawberries, raisins and salt. Add strawberries and raisins; toss. Season with salt. Makes about 2 cups.

---
Strawberry almond crepes

---
From Ketchum Kitchen at www.recipe.com
Before cooking this recipe, you might want to toast some almonds. To do so, spread them on an ungreased baking pan. Place in a 350 degree oven and bake 5 to 10 minutes or until almonds are light brown or toasted, stirring once or twice for even browning. Note that almonds will continue to brown slightly after removing from oven.
You might also want to make a few trial crepes. They are difficult to make. If the batter is too thick, thin it with additional milk.
Ingredients:

Crepes
2 eggs
2/3 cup milk
1/2 cup water
3/4 cup all-purpose flour
3 tablespoons butter, melted
Additional butter
Suzette sauce
1 1/2 cups fresh tangerine juice
2/3 cup butter
3 tablespoons honey
3 tablespoons orange liqueur
2 teaspoons fresh lemon juice
2 cups sliced strawberries
1/4 cup sliced almonds, toasted
To prepare crepes: In medium bowl, whisk together eggs, milk and water; gradually add flour and 3 tablespoons butter., mixing until smooth. Cover and refrigerate 30 minutes. Heat 6-inch nonstick skillet or crepe pan over medium heat until hot; grease lightly with butter. Add 2 tablespoons batter, swirling to coat bottom of pan with thin layer. Cook 1 to 2 minutes or until bottom is golden brown and edge begins to loosen from pan. Make remaining crepes, ending with approximately 12 crepes. Stack crepes, using wax paper to separate layers; set aside.0
To prepare sauce: In large skillet, combine tangerine juice, butter, honey, liqueur and stirring occasionally with wire whisk. Add strawberries; cook until strawberries are just heated. To serve, arrange three crepes on each of 4 dessert plates. Spoon Strawberries with sauce over crepes; sprinkle with almonds. Makes 4 servings.

---
Strawberries 'n' cream pizza

---
1 1/2 cups flour
1/2 cup butter or margarine, cold and sliced
1 cup chopped pecans or walnuts
3 1.4-oz. packets chocolate-covered toffee bits
1 8-oz. package cream cheese softened
1 cup powdered sugar
1 quart fresh strawberries hulled and halved lengthwise
Whipped Cream

Preheat oven to 350 degrees.

In large bowl, combine flour, butter and nuts: mix until blended. Press mixture on bottom of 12-inch pizza plate or pan. Bake 10 minutes. Immediately sprinkle hot crust with 2 packets of toffee bits, distributing evenly over crust. Set aside to cool.

Combine cream cheese and powdered sugar; beat until blended and smooth. Spread evenly over cooled crust to within 1/2 inch of crust edge.

Arrange strawberries, cutting side down, in circular rows over cheese mixture. Decorate top of pizza with whipped cream. Sprinkle remaining toffee bits over top. Serves 8-12.