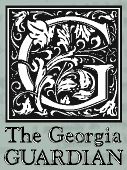 "Good eats from the south side"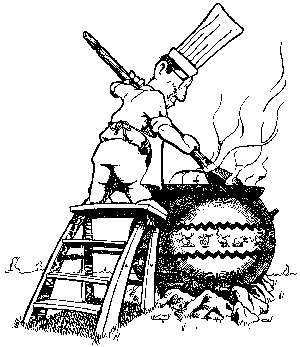 If you like spicy barbecued ribs and sweet crab meat, this recipe from the south side may surprise you. Sweet, Asian barbecue wrapped around a spicy crab stuffing topped with swiss cheese and paprika will make your mouth happy! The chowdah is good 'n' fillin'.
---
Crab-stuffed Asian Country-Style Ribs

---
Barbecue Marinade:
3-5 pounds of country style pork ribs
2 packages Korean, Chinese or other Asian barbecue sauce
1 cup water
1/2 cup brown sugar (optional)
3-4 tablespoons vegetable oil
2 tablespoons honey
2 tablespoons green onions, incl. greens, finely chopped
2 tablespoons minced garlic, divided
2 teaspoons lemon juice
1 tablespoon fresh ginger (optional)
1 tablespoon thyme leaves


Crab stuffing:
1 pound lump crab meat
1 tablespoon mayonnaise
1 tablespoon dijonnaiase
1 tablespoon minced garlic
1 tablespoon each red bell pepper, red onion, green onion (with greens) and celery
2 teaspoons Worchester sauce
1 teaspoon lemon juice
1/4 -1/2 teaspoon cayenne pepper
1 egg beaten
Old Bay seasoning to taste
Salt, freshly ground mixed peppercorns to taste
Paprika
Swiss cheese, shredded


Place ribs in Dutch oven or soup pot, cover with water. Season with salt, vinegar and 1 tablespoon of the garlic. Par-boil the ribs 45 minutes to 1 hour.

Meanwhile, mix all marinade sauce ingredients in a medium bowl and set aside. In another medium bowl, mix crab stuffing thoroughly, but take care not to break up the crab excessively. Cover and chill.

When ribs are tender, remove one at a time to cutting board, separating the tenderloin from the bone end, rendering two pieces from each rib. Season each rib piece with salt and pepper. Pour enough barbecue sauce mixture to cover bottom of a 9x13" glass baking dish. Place individual pieces in dish and cover with marinade. Chill three hours or overnight.

Before cooking, slice tenderloin pieces horizontally to make butterfly cuts. Do not cut through. Bring ribs to room temperature.

To bake: Pre-heat oven to 350F. Cover dish and heat ribs through, about 30 mins. Remove from oven. Turn and brush on marinate. Open butterfly cut pieces and fill with crab mixture. Top generously with shredded swiss cheese. Sprinkle with paprika. Cook an additional 5-10 mins., until cheese begins to brown. Remove and let rest two minutes.

To grill: Place ribs on grill, initially with butterfly cut sides down. Heat through, turning periodically. Brush on marinate as desired. Remove from grill, place in oven-proof dish. Open butterfly cuts and fill with crab mixture. Top generously with shredded swiss cheese, sprinkle with paprika. Cook in preheated 350F oven for 5-10 mins., until cheese begins to brown. Remove and let rest two minutes.

To serve: Place 1-2 ribs atop a bed of basmati rice or mashed potatoes. Drizzle rib "gravy" over ribs and rice or potatoes. Serve with green beans mixed with almonds or pine nuts, corn muffins or biscuits, and salad. Goes well with blush or red wine, cold beer or, of course, sweet ice tea with lemon.

---
Savannah Black Bean Chowdah

---
1 bottle White Zinfendel wine (or wine of choice) chilled
2 8-oz. packages Vizo Black Beans
1 can Rotello Mexican
14 cups water
1/2 cup Worchester sauce
Dry sherry
6 strips bacon, cut into small pieces
1 medium ham hock
16 oz. stew beef, tenderized
16 oz. chicken pieces, or cooked, prepared chicken* (if desired)
8 oz. sweet Chinese sausages (if desired)
4 tablespoons butter
1 cup uncooked white rice, rinsed
1 each red and yellow bell pepper
1-2 jallepeno peppers (if desired) cored, seeded and chopped
2-3 ears fresh corn
1 small bunch green onions, incl. greens, sliced into 1-inch pieces
1 large red onion, coarsely chopped
2-3 stalks celery, sliced
2 tablespoons fresh oregano
2 tablespoons sage leaves
1 tablespoon fresh cilantro
1/2 tablespoon cayenne pepper (or to taste)
3 rounded tablespoons garlic
1 bay leaf
2 cups beef or chicken stock (or 2 boullion cubes)
Fresh ground mixed peppercorns
Salt to taste


Pour one glass chilled wine. Sip slowly as you prepare this recipe. Slowly brown bacon in bottom of pot. Remove bacon from pot, put aside. In the same pot, add the ham hock and salt. Cover with water and cook on medium high heat for 30 mins. Add remaining water. Bring water, butter and salt to a boil. Add beans and return to boil. Add stock or boullion, ham hock, beef, chicken, sausages; if desired. (If using prepared chicken, add later) and rice. Cook on medium high heat for 15-20 mins. Reduce heat. Add bay leaf, onions and garlic. Stir. Add ground peppercorns, oregano, jalepenos and cayenne pepper. Reduce to low heat, Add Worchester sauce, Rotello, green onions, corn, bacon and bell peppers. Add or subsitute other vegetables as desired. Enhance with sherry, to taste. Cover loosely, simmer 1-2 hours. Refill wine glass as necessary. Can be prepared a day or so ahead and refigerated. It's even better then!