On the road to Milan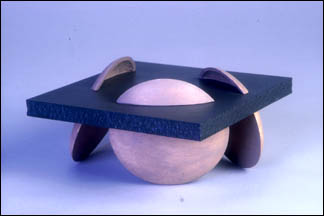 Photo by Star Kotowski
Mica Sorkin-Rockstein created this futuristic table for the Milan display.
From Staff Reports
(from the 4/28/00 issue)

It's roughly 6,000 miles from Savannah to Milan, a long, long way to schlep a settee. Nevertheless, 10 Savannah College of Art and Design students in mid-April displayed their furniture designs in Milan's Salon del Mobile, one of the largest and most prestigious exhibitions in the world. The SCAD students shared the 5.2 million square-foot exhibition space with 1,900 exhibitors from 29 countries. More than 160,000 people attended the show.
Photo by Star Kotowski
Nathan Hoeh's work travelled to Milan.

Photo by Star Kotowski
The work of Ben East.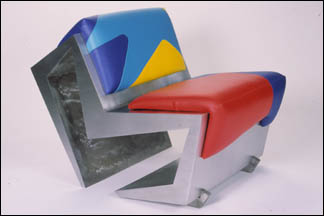 Photo by Star Kotowski
Anna Troupe's work was displayed in Salon del Mobile.
Sitemap | Subscribe | Survey | FAQ | Contact Us
Copyright 2000 Georgia Guardian. All rights reserved.