Born to Dance
Maxine Patterson celebrates 30 years as an instructor

Photo by Richard Rodriguez
Maxine Patterson adjusts a student's posture in one of her dance
classes. Patterson has taught dance in Savannah for the past 30 years.
By Undine Truedell
(from the 2/18/00 issue)

The road to destiny can be long and difficult, but for Maxine Patterson it came easy. She always knew she was born to dance.
"How did you know, how did you always know that's what you wanted to do?" Patterson's adult son asked. She said she just knew.
Patterson, who is celebrating 30 years as a dance instructor in Savannah, knew from the age of 8 that she wanted to become a dancer, but her parents were doubtful.
"My parents said 'you'll change, you'll change your mind,' " she explained. Fortunately, for her students, she didn't change her mind.
But Maxine Patterson is more than a dance instructor to the many children she teaches. The students are drawn to her and view her more as a mother than a dance teacher. At rehearsal, Patterson is often surrounded by eager students. They seek her advice on everything from tying shoes to personal and social issues.
A native Savannahian, and a product of the public school system, Patterson started teaching dance in 1970. The former member of the Savannah Ballet Guild, now the Savannah Ballet Bureau, believed she could make a greater impact as a dance instructor.
"During that period there were very few black children allowed to attend dance studios," Patterson explained. This disturbed her greatly, and prompted her to teach minority children. In earlier times, the predominately African-American dance classes received many glares in public when accompanied by Patterson and her husband. "I wasn't brought up prejudice, I just wasn't," said Patterson.
"Initially, I taught on Hunter Army Airfield on Saturdays, which lead to me teaching at the Bay Street YMCA," she stated. Currently, Patterson instructs dance at the Jewish Educational Alliance Center, Gadsden Elementary School and at her studio on Lincoln and 39th streets. She offers classes in ballet, jazz and tap, to men and women of all ages and races.
The most rewarding part of teaching dance, Patterson said, "is watching the children grow up as performers. A lot of my students started out with me as 3 or 4 year olds, and it's wonderful to see how they've progressed now that they're in high school, especially those who go on to be members of dance teams in college."
Patterson sees the benefits of the arts in childrens' lives, and believes they create more disciplined, focused, and well-rounded individuals. She believes that arts should be part of the curriculum in all schools.
In the future, Patterson hopes to see her dance classes, which are 85 percent black and 15 percent white, become more integrated, but admits she isn't preoccupied with the matter.
"I just want to continue enriching the lives of children through dance, regardless of color," Patterson said.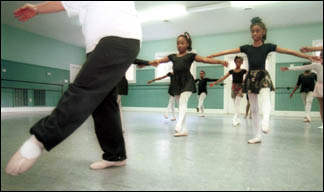 Photo by Richard Rodriguez
Sitemap | Subscribe | Survey | FAQ | Contact Us
Copyright 1999 Georgia Guardian. All rights reserved.