View more Hilton Head Island photos

View past feature stories

Just across the bridge
Hilton Head businesses offer entertainment all along the island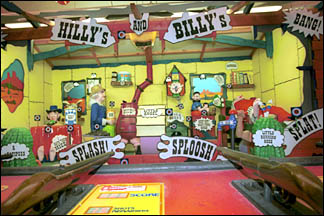 Photo by Russ Bryant
Adventure Cove offers a variety of arcade games and entertainment.

From Staff Reports
(from the 1/14/00 issue)
A few minutes away from downtown Savannah lies hours of fun.
Along the way to Hilton Head, the scenery is dotted with 18 golf courses, and there are 23 more waiting on the island. Once on the island, there are even more attractions, more than 200 restaurants and 12 miles of beach. For those who are looking for fun in a different setting, Hilton Head businesses invite Savannah residents to the island.

---
Adventure Cove

---
When one first walks in to Adventure Cove, the excitement of childhood parties is recalled with a multitude of video games and huge jungle gym set that climbs toward the ceiling. The serenity of adulthood is brought to mind at the driving range, neatly landscaped and surrounded by nature. In between are opportunities for a range of good times, sure to entice anyone.

Outdoor activities include two mini-golf courses, lighted driving range, baseball and softball batting cages. Inside, children can romp through "Jungle Jim's" play ground. Adventure Cove also has one of the area's largest video arcades and ticket redemption centers. Those in need of more excitement can catch a ride on the VR2002 virtual reality roller coaster, play a game of laser tag or experience the new "Rock 'n' Roll" bumper cars. For the ultimate trip, buckle up in the 4-D motion theater, featuring 3-D picture show and a fourth dimension of fun that comes from the theater and chairs. There is also a Subway and Mamma Ilardo's Pizza food court at Adventure Cove. Arcade games can be played by purchasing tokens. Rides and games can be paid for individually or by buying a 5-use multi-pass for $20. Special rates are available for parties or groups. Adventure Cove is open seven days a week, year-round, and is located at the corner of William Hilton Parkway and Folly Field Road, at mile marker 6. For more information, call (843) 842-9990 or check out their Web site at www.adventurecove.com.

---
Family Circle Cup

---
A little bit of the world comes to the island each year with the annual Family Circle Cup women's tennis tournament, now in its 28th year. Champions and players from all over the world converge on Sea Pines Resort to play for the crystal cup and prize money at the longest-running women's professional tennis event in the United States.

The event, scheduled this year for April 17-23, has already drawn 1999 U.S. Open Champion Serena Williams, who declared her entry Dec. 16. It will be the No. 4-world ranked tennis player's debut at the event.

Other activities throughout the week include recognizing the "Player Who Makes A Difference," one who has given her time and resources for charity.

Tickets are now on sale for this super week of women's tennis. Fans can choose from a variety of ticket packages including patron boxes, series packages and daily tickets. For more information on tickets, call (800) 677-2293 or (843) 363-3500. Tickets can also be reserved through the Internet by contacting the Family Circle Cup Web site at www.familycirclecup.com.

---
Islands Scuba Dive and Travel

---
For a staff that delights in drenching customers, look no further than Islands Scuba Dive and Travel. Whether you're just curious about scuba diving or experienced at it, instructors match your needs.

Inexperienced divers can join in on a Sunday session in the pool, try out the equipment and sensations, and see if it might be something they'd like to continue. Since safety is stressed more than anything, lessons take as long as the students needs to fully grasp each concept. Follow-up lessons are provided in a classroom setting by a master instructor who has 10 years experience teaching and has been diving for 20, and two part-time instructors who have nine years of experience teaching and have also been diving for 20 or more years.

Once a student has graduated to the role of scuba diver, Islands Scuba Dive and Travel can still meet their needs. There are classes offered for re-certification, and trips for those who want help planning a leisurely vacation to Bonaire or another great diving place. Islands Scuba Dive and Travel offers diving accessories, including equipment, which they also service.

The Dive Club, the only club of its kind in the area, meets the second Thursday of every month at 7 p.m. at the store.

In the summertime, the staff take divers on offshore charters. In the wintertime, when ocean waters are too rough, they do river diving. For more information, call (843) 689-3244.

---
Self Family Arts Center

---
Winter hasn't slowed down any activity at the Self Family Arts Center. Visual arts, theater performances and music round out a full season.

Through Jan. 29 in the Walter Greer Gallery the Camera Club Show, an exhibition of the work of some of the area's finest photographers, will be on display. There will also be a concert by Charles Wadsworth and the Magellan String Quartet Jan. 24.

But, January doesn't hold all the excitement. On Feb. 27, the center brings back the International Piano Competition Winners' Recital. The winners of the Hilton Head Orchestra's prestigious International Piano Competition perform a recital at the center, highlighting the best of up-and-coming musicians. February's theater series includes a performance of "The Last Night of Ballyhoo," from the author of "Driving Miss Daisy."

With more musical, theatrical and visual arts activities set through March, Savannah residents will find their tastes in entertainment satiated at the Self Family Arts Center. For information on tickets call the box office at (843) 842-ARTS, or for a complete listing of remaining events for this season, call (843) 686-3945. The center's Web site can be accessed at www.artscenter-hhi.org.

Although these are only a few of the exciting activities going on in Hilton Head, residents can continue to find entertainment options just a few minutes away.

- Compiled by Margarita Venegas.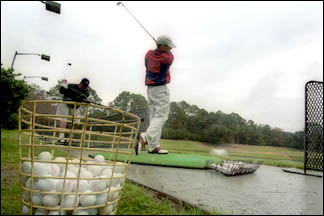 Photo by Russ Bryant
Golf is popular on and off the island, where 41 courses can be found.
View more Hilton Head Island photos
Sitemap | Subscribe | Survey | FAQ | Contact Us
Copyright 2000 Georgia Guardian. All rights reserved.