Riding Along on
Two Wheels and a Prayer
Harley Owners Group sponsors Blessing of the Bikes for Savannah riders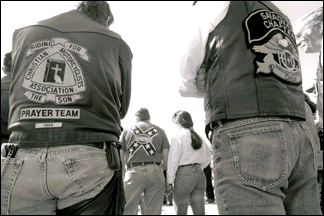 Photo by Russ Bryant
Although the annual Blessing of the Bikes, now in its fourth year,
is sponsored by the Savannah Harley Owners Group, riders from
several different organizations in coastal Georgia particpate.

By Margarita Venegas
(4/2/99 issue)

As the Sunday afternoon light gleamed off the rows of motorcycles and studded leather vests, approximately 137 bikers gathered to bow their heads in prayer.
The fourth annual Blessing of the Bikes took place March 28 in the parking lot of the Coastal Georgia Center for Continuing Education, 305 Martin Luther King Jr. Blvd. The Harley Owners Group sponsored the event, but invited all motorcycling enthusiasts to participate.
The group's activities director Deborah Saunders said the idea for the annual event was adapted from a similar one, the Blessing of the Boats, that is done for the shrimp fleets in the region. Since the riding "season" is pretty much all year round, the Blessing of the Bikes used to take place at the end of the year, Saunders said. However, it was changed to early spring because this is the time of year when the weather warms up and people start to ride on a regular basis again, she added.
The blessing usually includes prayers by a minister, a priest and a rabbi. Since this year's event was so close to Passover preparations and was held on Palm Sunday, a minister from a nondenominational church was asked to give the blessing.
Pastor Mark Evans from Believers Church in Sylvania gave a short blessing asking God to protect each of the riders throughout the upcoming year.
"I think the whole concept behind blessing is not that it's a ritual. It's to honor God with what we have," said Evans, who has never before been asked to give a blessing at an event of this nature. "We just believe that everything we have belongs to God, so we pay our respects to him and give ourselves back to him."
Evans, who said he has always been interested in motorcycles, became a biker in September.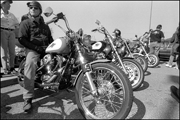 "We have a group of men at our church who ride partly for hobby and partly as ministry," said Evans who has been a pastor for three years at the Believers Church. "I also got involved with the Christian Motorcyclists Association."
Christian Motorcyclists Association members unite their love of riding with their religious beliefs, however the Blessing of the Bikes is more of an event for anyone who believes God hears our prayers for safety, Saunders said. With four other motorcycling organizations in Savannah, the number of bikers who need prayers for safety is fairly high for this region, she said.
"We had several bad bike wrecks last year and this year we hope it will be a better year," she said.
There haven't been any member deaths in recent years related to riding accidents, Saunders said, but some have passed on because of illness. The group continues to sponsor fund-raisers throughout the year to help find cures for cancer and to raise funds for charitable organizations.
"We'll have a dance in August that is our main fund-raiser of the year to benefit the Matthew Reardon Center," Saunders said.
While members meet monthly to plan activities, the Blessing of the Bikes is a short event that people attend to receive piece of mind, Saunders said.
"It's about 15 minutes, then we all go our separate ways again," Saunders said. "I think people really believe it helps them. I know I do."

The Savannah Harley Owners Group boasts 150 members, who all must own Harley Davidson motorcycles and have a national membership. Applications can be found at the Savannah Harley Davidson shop, 6 Gateway Blvd. West. Those interested in more information on the group's schedule of events can call the HOG hotline at 925-5349.

Inset photo by Richard Rodriguez.

Home | Contact Us | Sitemap | FAQ | Subscribe | Survey
(c) Copyright 1999. The Georgia Guardian. All rights reserved.
No photo may be reproduced without our written permission.