Graduating from school to life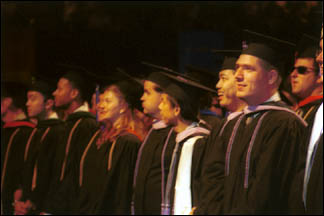 Photo by Brian Kronenberg
The Savannah College of Art and Design class of 2000 participated in
commencement ceremonies May 27 at the downtown civic center.

By Christina Taylor
(from the 6/2/00 issue)

Usually, Saturday mornings in Savannah show the town's sleepy side. Traffic moves slowly, lights are out, doors are closed.
May 27 was an exception.
For the Savannah College of Art and Design graduation ceremony, the blocks near the Savannah Civic Center came to life. Every parking spot was full and, between 9:30 and 10 a.m., a constant stream of graduates, families and friends poured through the auditorium doors.
By the time the ceremony started, most of the seats in the civic center auditorium were full. When, a few minutes later, graduates started filing into their seats the room erupted into applause.
Large video screens chronicled the events of the past year and the honors graduates accumulated. Video clips of Christo and Jean-Claude, Audrey Flack and Betye Saar flashed across the screen, along with images of award-winning artwork.
Although the graduates and their accomplishments were the main attraction, the audience was also eager to hear the commencement speaker, Danny Glover. He talked to graduates about the lives that they might lead, both as people and as artists.
"It is an exciting part of the journey you are about to undertake," he said. "We can no longer deny that we are a global community. It will be your responsibility to articulate those changes and challenges especially when those changes need to be challenged."
Glover spoke about some of the choices he has made in his own career. In describing his work in Hollywood, Glover makes a clear distinction between movies that he made to earn money and those he made because he was passionate about the stories they told. In the end, Glover said, it is those stories that matter.
"Looking back, even though the audience response was sometimes disappointing, I am very proud of those films," he said. "We have to be willing to take personal risks to do the things that we're passionate about."
Glover also told graduates how to face their demons. He talked about his own dyslexia and fear of auditions. Despite his obstacles, Glover forced himself to search for acting jobs.
"The question is, how determined, how persistent are we to get over these things?" he said.
After the obstacles have been crossed and the artist finds his or her passion, Glover explained, the creative process begins.
Christina Taylor can be reached at 525-5500 or by e-mail to cbtaylor@georgiaguardian.com
Related story from previous week:
Danny Glover to speak at SCAD graduation
Home | Contact Us | Sitemap | FAQ | Subscribe | Survey
Copyright 2000 Georgia Guardian. All rights reserved.