Women aviators soar to new heights
Female military helicopter pilots have "the right stuff"



Photo by Russ Bryant
Chief Warrant Officer 2 Catherine Jung sits in the cockpit of an AH-64 Apache attack
helicopter at Hunter Army Airfield. The high-tech aircraft is designed to be flown at low-levels
at night, and is equipped with laser-guided Hellfire missiles and 30-millimeter cannons.

By Amy Goodpaster Strebe
(5/21/99 issue)


She's petite with short dark hair and a smile that is upon first meeting her, almost shy. In some states 24-year-old 1st Lt. Marla Bradbury isn't old enough to rent a car. Two years ago, however, Bradbury became the 18th woman in the U.S. Army's history to qualify as an AH-64 Apache combat helicopter pilot.
Taking a closer look, a patch on Bradbury's flight suit changes one's initial impression of her and brings to mind the seriousness of her vocation: "AH-64 Apache, Strike to Kill, Vipers."
After completing ROTC at Boston University, Bradbury joined the Army and went directly to flight school. She trained on several aircraft, and became qualified to fly the $16 million Apache in December 1997. The Apache, designed to be flown at low-levels at night, is equipped with laser-guided Hellfire missiles and 30-millimeter cannons. Its main purpose is to destroy tanks and radar sites from the air.
With the current crisis in the Balkans, Apache helicopters have been frequently in the news because of their deployment to the region as a combat force.
If the time comes for Bradbury to go to war overseas, she said she's ready.
"It would be interesting to use my skills in a combat situation. That's what I've been trained to do," she said.
Before coming to Savannah, Bradbury was a platoon leader stationed in Korea.
"When I used to hear people say that they're Apache pilots I thought it was so cool," Bradbury said. "If you put your heart and mind to it, you can achieve anything."
Bradbury knows that many Americans may not realize that when they see Apaches fly overhead or see the aircraft on the evening news, there may be young women in the cockpit.
"Older people may not be used to seeing women in combat roles, but I think there's enough of an awareness in society now that people have come to accept it," she said.
For Chief Warrant Officer 2 Catherine Jung, the Apache is the ultimate aircraft.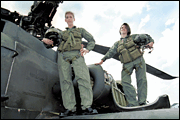 "It has two engines, unlimited power and weaponry," she said with a smile. "The Hueys which I used to fly, are more simplistic, and the Apache is above and beyond, more high-tech."
Bradbury and Jung are both a part of 1st Battalion, 3rd Aviation Regiment, stationed at Hunter Army Airfield.
"Flying helicopters is the closest thing to strapping wings on your back and flying," said Jung.
Jung said she has wanted to fly helicopters since she was a little girl.
"It's a great challenge and there's a lot of skill involved. I like to challenge myself," she said.
Jung, who grew up in Illinois, became qualified on the Apache in February. For those who may be dreaming of flying one day, Jung advised young people to stay in school, be motivated and set high standards and goals for themselves.
Jung said she hasn't encountered any kind of negative attitudes from her male counterparts.
"If you're competent and do your job well, people are going to respect you - and accept you," she said. "I have found people to be really supportive."
The most important quality Jung said pilots should possess is confidence.
"Confidence is really important, and intelligence, which goes without saying. You must be able to handle multiple tasks. It's not about just doing the job - it's about doing the job well."
Women have been involved in our nation's military since the Revolutionary War when they first worked as cooks, laundresses, water bearers and nurses. It wasn't until World War I, almost 200 years later, that women were officially enlisted in the military.
According to an article in Army Reserve Magazine, by the end of World War I, 11,800 female yeomen served stateside, and in 1918, the Marine Corps began enlisting women for clerical duties.
World War II saw an even larger and more official participation of women in the military. More than 400,000 women served in the military during the war years, including overseas duties that brought them closer to enemy attack - so close that some military nurses were even held prisoners of war.
Army, Navy and Air Force nurses were the first women to deploy to Vietnam and were the largest number of American women to serve there. An estimated 6,000 military nurses and medical specialists served in Vietnam from March 1962 to March 1973. Eight enlisted women were killed in Southeast Asia.
The Persian Gulf War saw the largest single deployment of women in U.S. military history, according to Army Reserve Magazine. The 41,000 military women deployed made up 7 percent of the forces in the Persian Gulf. Women served as aircraft pilots carrying troops, supplies and flying on reconnaissance missions.
Today, with many of the combat exclusion laws repealed, military women now have the opportunity to serve on combat ships and fly combat-related missions, positioned near the front lines with ground units.
In 1994, the U.S. Army opened air cavalry units to women - putting them on board Cobra and Apache attack helicopters flying cover for tanks on the battlefield. This has greatly expanded women's roles in the armed forces, and brought them closer than ever to real combat. Fewer than 40 women in the U.S. Army are qualified on the Apache.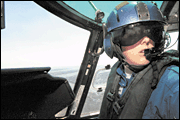 For Lt. Lorinda Couch, stationed at Coast Guard Air Station Savannah, her objective as a helicopter pilot is not to destroy enemy tanks, but to search for and rescue individuals who may find themselves stranded out at sea.
Couch, who received her wings in 1991, has flown on search and rescue missions throughout the country, and said she joined the Coast Guard for the daily challenges her job affords her.
"I've wanted to become a pilot since my first commercial flight at the age of 9," she said. "Helicopters are so versatile, you can stop, go backwards. Helicopters are the perfect vehicles to do our missions."
Couch said one of the reasons she enlisted in the Coast Guard in 1983 was that there are no limitations on what women can do.
"We are unique in that since we're under the Department of Transportation, we have no combat restrictions," she said. "Unlike the Army, we have the potential to have a mission every day where we can really hone our skills."
One of the most challenging aspects of being an aircraft commander aboard the H-65 helicopter, according to Couch, is flying offshore at night in bad weather.
"Flying at night in a hover over a sailboat can be a challenge because you have to be particularly watchful of the mast, and you don't have any visible reference points," she said. "This can be risky." Couch is one of 32 women helicopter pilots on active duty in the Coast Guard.
To be a good pilot, Couch said a person must be able to think fast and be able to handle multiple tasks in potentially stressful situations.
"There are four radios on board the aircraft and in addition to listening to each of them, I am responsible for the execution of the SAR case, which is more than just decision making. It's being ahead of the power curve."
Teamwork takes on a special meaning when a Coast Guard aircrew responds to a mayday call.
"In SAR cases you must use your whole crew to accomplish the mission," said Couch. "We all truly have to work together as a team."
The humanitarian aspects of her job, along with having the opportunity to fly, are reasons Couch wouldn't work anywhere else.
"That's really what makes this job exciting," she said. "Every day brings a new challenge."

Photo by Russ Bryant
Bradbury demonstrates the ability for Apache pilots to maneuver the 30-millimeter cannon with just a turn of the head.


Photo by Russ Bryant
Couch performs a safety check on the H-65 aircraft prior to a routine flight at U.S. Coast Guard Air Station Savannah.
Check out more past feature stories
Home | Contact Us | Sitemap | FAQ | Subscribe | Survey
(c) Copyright 1999. The Georgia Guardian. All rights reserved.
No photo may be reproduced without our written permission.