The Georgia Guardian's news photo gallery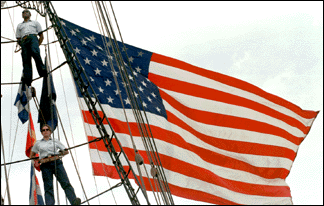 7/10/98 issue
Guardian staff photo by Richard Rodriguez

Crew members of the Eagle stood at parade rest in the ship's rigging while it made its way into the Savannah Harbor as part of Americas' Sail '98. Americas' Sail featured talls ships from Argentina, the United States and Venezuela.


Copyright 1998 Georgia Guardian. All rights reserved.
No picture may be reproduced in any way without our permission.
Go back to the news photo gallery

Go to the Georgia Guardian Main Page
Go to the gallery main page