Building better communities
Habitat for Humanity competition creates homes for Tatemville subdivision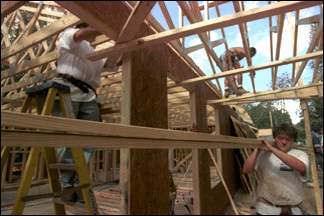 Photo by Richard Rodriguez
Steve Hall of Hallmark Homes of Savannah (left) and Patrick Indrund build the
framework of a house at Coastal Empire Habitat for Humanity's third annual Build-A-Thon.
By Margarita Venegas
(from the 11/26/99 issue)

The pounding of hammers tapped out the feeling of urgency surrounding Habitat for Humanity's third annual Holiday Build-A-Thon.
What usually takes Habitat for Humanity volunteers months to accomplish, four construction companies did in one day, fighting for the distinction of first place. Close to 5 p.m., after having begun construction at 8 a.m. the Remodelers Council of the Home Builders Association put down their hammers for good.
"Normally, it takes the framers about seven days to do something like this," said Scott Richards, chairman of the Remodelers Council and owner of One Stop Remodeling. "Part of it was planning and part of it was that we had a ton of people. We had 15 people, but usually a framer crew is made of 4 to 5, depending on the job."
Other participants were crews from W.D. Fawcett Inc., C.A. Griffin Inc. Custom Home Builders and Hallmark Homes of Savannah and Randy Johnson Construction. Four homes were added to the Tatemville subdivision, where Habitat for Humanity constructs new homes for waiting families.
More than 100 families are currently under review for a home through Coastal Empire Habitat for Humanity, said Pauline Knight, head of the family selection committee. Families are chosen based on their credit status, community service hours contributed and need, she said.
The Remodelers Council participates annually in the Build-A-Thon competition because they believe the objectives of Habitat for Humanity help strengthen the community, Richards said.
"Their whole mission is something we feel is worthwhile," he said.
Yet, something else keeps the builders interested in the competition, he added.
"There is a sense of pride," Richards said. "We want to construct a good quality home."
To work so fast gave a sense of exhilaration, he said. Added to that was the energy each of the builders gained from the others. All of the team members belong to the council, but don't work for the same construction company. They know each other as friends, and also as competitors.
"It was really good to work together in such a tight team," Richards said. "We all spend time together, but you got to see how it was working with three other people whose work you really admire."
Although winning was an added bonus, Richards said he was happy to be doing a good deed with a good crew. Planning for the event started the previous Thursday when all the construction groups went out to look at the sites.
"We did a little beforehand, but most of the planning came together about 40 minutes before the actual job started," Richards said. "It happened at 7:30 that morning when we divided tasks up and assigned crews."
Once that was done, the momentum started with each builder acting like a member of a NASCAR pit crew, doing their individual duties, adding to another's work and finishing with a step back to admire the end result.
"The best part of the experience, really, was working with the other people on the job," Richards said. "Even if we had not won, it would have been worthwhile."
Having won, however, was all the more sweeter because it showed that although the team was made up of remodelers didn't mean they couldn't do work as fast and well as home builders, Richards said.
"I think a lot of people still have a low opinion of what it takes to be a remodeler," he said. "But, I think we take a lot of pride in our work. I think we could say we can build a house just as well as any home builder."
As soon as insulation is added by volunteers, plumbing and wiring hooked up, one family will get a chance to say the same.
| | |
| --- | --- |
| Randy Johnson, whose construction company joined forces in the competition with Hallmark Homes of Savannah, uses a nail gun to help put together a roof on one of the homes. | Elfredo Alonso hammers in a door frame for one of the four homes that was constructed that day. |
Sitemap | Subscribe | Survey | FAQ | Contact Us
Copyright 1999 Georgia Guardian. All rights reserved.