The Georgia Guardian's photo gallery of Savannah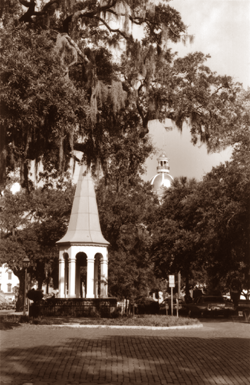 The Old City Exchange Bell is believed to be the oldest bell in Georgia, dating back to 1802. The bell used to signal the closing times of shops and warn of fires. It rang in celebration of American victories during the War of 1812. The tower was a favorite gathering place for those anxious about the arrival of vessels. The replica of the tower was erected in 1957.


Copyright 1998 Georgia Guardian. All rights reserved.
No picture may be reproduced in any way without our permission.
Go back to the Savannah photo gallery

Go to the Georgia Guardian Main Page
Go to the gallery main page