Learning the Moves of Grace,
Dance of Beauty
Ballet South works on building a strong company to raise talent in Savannah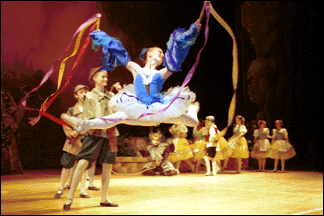 Photo by Richard Rodriguez.
Emily Ellis played the bird in Ballet South junior company's
"Peter and the Wolf" production, which highlighted the talents of younger students.

By Margarita Venegas
(4/16/99 issue)

The wolf approached on tip-toe with arms outstretched, wearing a ferocious sneer and the little bird and ducks quivered and flitted away. All the while, Elda Sloan watched to see how it would all play out.
In the end, Peter and the field animals caught the wolf, despite the hunters' attempts and Grandfather's warnings. So went another production by Ballet South's junior company. Sloan and her students could breathe a sigh of relief before starting the process once again - after all they have an audience that spans an entire city.
After years of transformation, the non-profit organization has settled into its mission to become a premier company in Savannah, according to Penny Wiggins, president of Ballet South.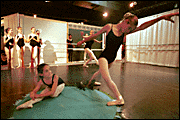 "The level of instruction our students are receiving right now, you just couldn't put a price tag on it," Wiggins said. "Right now, we have small class sizes so it's almost like semi-private instruction."
Wiggins' dream for Ballet South was to start a school that could support the junior and senior companies through financial and talent resources. With 50 students currently enrolled in the school, the organization has started to see that goal take form. Ballet master Williams Thompson and ballet mistresses Shay Thompson and Elda Sloan are part of that goal, as well.
William Thompson comes from a background that includes dancing and teaching credits with Royal Winnipeg Ballet, Les Grands Ballets Canadiens, Zurich Ballet and Pennsylvania Ballet. Shay Thompson is also a faculty member at the Center for Dance Education, owns and operates The Metter School of Dance, and is a professional dancer with Ballet South. Sloan, who moved to Savannah four months ago, grew up in Spain, and studied ballet in Spain and France. She has worked with the National Ballet of Spain, Royal Ballet of Madrid, Berkeley Ballet Theater, and is a guest teacher at the Atlanta Ballet.
"Our faculty is really over-qualified, but we now have people who are really concerned about the art form," Wiggins said. "You're born with a certain degree of talent, but you can also make talent. If you have the opportunity to take these classes you can learn good form."
Believing that serious training will help most young girls refine their dancing skills, Sloan said she thinks Savannah could possess a company with as much talent as one from a bigger city.
"I want them to go to a center where they can learn good, basic technique and be trained the proper way," Sloan said. "I think there is definitely talent and material in this city. I'm very determined when I see something worthy; I won't stop until other people see it, too. This is like a little gold mine that people need to know about."
Aside from "The Nutcracker," performed every December, Ballet South presented "Dracula's Revenge" and "Cinderella" as major productions this season, working with Columbia City Ballet from South Carolina. Following tradition, Ballet South dancers will also perform with the Savannah Symphony during the Arts on the River Festival May 7-9. For a company that is not yet professional to be producing those kind of performances is challenging, Wiggins said.
Yet dancers are constantly being pushed to work harder, as with the junior company's performance of "Peter and the Wolf" April 13 at the Savannah Civic Center.
Playing the cat, 13-year-old Carleton Meadows had to make a conscious effort to keep her hands in front of her like paws, instead of extended like a ballerina.
"I want to make a career in ballet, so I'm working hard to achieve that. It takes time and effort," Meadows said.
Abigail Shuman, 12, who performed as a hunter, noted that it can be hard work making it to all the required classes, especially on the weekends. For 13-year-old Rebecca Farguson, who was the lead hunter, the most frustrating aspect of ballet is not quite mastering a move, especially when other dancers already have.
However, all the girls feel the same as 9-year-old Samantha Udinsky, who played a duck, and believes that ballet is a great place to make friends and is fun.
"I'm very pleased with them, I could not find a better group of girls," Sloan said about the junior company. "I want them to understand they can all belong to this place, learn the same way and look good on stage."
Sloan works with younger girls because she relates well to them and knows how to teach them, Wiggins said.
"She likes them, but she still pushes them," Wiggins said. "She doesn't baby them and she gets the most out of them for her efforts."
Eventually, when junior company members are strong enough and ready for it, open auditions for Ballet South productions will be cut because the company will have a steady supply of consistent dancers, Wiggins said.
"To a degree, training can be more important than dancing," she said. "The more girls we train, the easier it will be to mesh the junior and senior companies together."
Hoping to cultivate dancers who are dedicated, Sloan doesn't mind if not all her students set aside dreams of dancing professionally to pursue other career goals.
"Some just want to dance, and even if they become audience members later on, at least they will have an appreciation for it," Sloan said.
Sloan knows first-hand that once the dancing bug has bitten, it doesn't let go.
"Ballet is a part of everything for me," she said. "Even if you go to a symphony and you hear music, I see steps. I see people, I see dancers going across a stage."
Home | Contact Us | Sitemap | FAQ | Subscribe | Survey
(c) Copyright 1999. The Georgia Guardian. All rights reserved.
No photo may be reproduced without our written permission.