Also see related story:
Life after 'Bagger'

Southern tinseltown
Extras travel back to the Depression for 'Bagger Vance'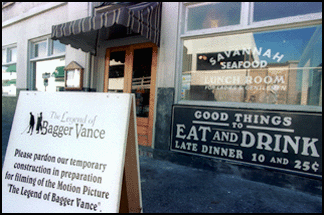 Photo by Richard Rodriguez
Shops in City Market, although transformed on the outside,
stayed open for business when the movie wasn't being filmed.
By Margarita Venegas
(from the 11/19/99 issue)

It's hard to get star-struck when the majority of time spent on the set as an extra for "The Legend of Bagger Vance" has actors waiting - slouching on 1930s-era cars, sitting slumped on sidewalks.
Make no mistake, though, the experience still has its moments. Those moments can go on and on with re-takes, but the opportunity to see Hollywood in action can be educational.
"You get a more in-depth view as to the finished product," said Emmett Folley, who lives in Hinesville. "You learn about shooting out of sequence and what it takes to put together a movie."
Even the extras get extra attention. Flesh-colored make-up was put on Folley's arm to hide the tan line from his wristwatch, he said. Also, all extras were checked to be sure they had every piece of jewelry taken off and tattoo hidden, Folley said.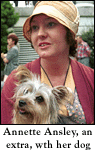 The authentication process went one step further for Megan Duffey, who played a homeless young woman. Make-up artists dusted her with "dirt" - brown powder - and ran grease through her hair to make her look as if she hadn't taken a bath in days.
"I just can't wait until I get home so I can take a bath," she said.
Duffey, who lives in Michigan, tried out for the movie with her boyfriend, who lives in Savannah. She made friends with fellow "homeless" extra Mack McMillan, whose overalls were also covered in a thick layer of brown make-up, and Richard Whiffen, a slightly better off extra.
Making friends is one of the best parts of acting, said Whiffen.
"I like the people I meet in this business," he said.
Everyone has the same mindset - that of making a great film, added Duffey. The dedication to filmmaking is what keeps many extras going, despite the long hours and waiting that tries one's patience and stamina, said Annette Ansley.
During one of the filming days, Ansley wasn't alone in waiting. When she was called for her hours, Ansley was asked to bring along her small dog, Chloe.
Chloe had the opportunity to appear in two scenes, one in the back of a car and one walking down the sidewalk.
"I hope they show up in the final cut," said Ansley.

Photo by Richard Rodriguez
Police officer M.E. Hallis directs traffic away from Congress Street, where the film, "The Legend of Bagger Vance," is underway.
Photo by Richard Rodriguez
Duane Pugsley secures the old Ford Model-T cars that no longer work, but are used for props for the movie.
Also see related story:
Life after 'Bagger': Movie's economic, physical impact
View more past feature stories
Sitemap | Subscribe | Survey | FAQ | Contact Us
Copyright 1999 Georgia Guardian. All rights reserved.