A very good day for the 'Kids'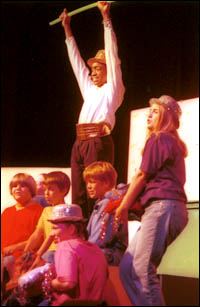 Photo by Richard Rodriguez
Zadrian Smith (top) leads the cast in an ode to shoes.

A Review
By Beth Concepción

Kelie Miley must be the hardest-working woman in Savannah. Not only did she direct "Peter Pan," which just closed Sunday, but she is the director for "Alexander and the Terrible, Horrible, No Good, Very Bad Day" which opened Saturday. The fact that both of these productions are well-staged and fun to watch is a credit to Miley's stamina, patience and rapport with the children in both of her casts.
"Alexander " is a joint venture of the Savannah Theatre Company and the City of Savannah Leisure Services Youth Theatre and is a "Kids for Kids" production. The play's intended audience of children packed the theater for the opening performance and they were suitably appreciative of their peers onstage. The adults seemed to enjoy the production as well.
Miley's cast certainly had the energy for the musical. Based on the book by Judith Viorst, "Alexander " is the story of a boy named Alexander whose day starts off wrong when he finds gum in his hair. The play follows Alexander through his daily routine as things go from bad to worse. The title character is played by Levi Lewis with an appropriately incredulous demeanor. Jack Webber and Linc Bradham play Alexander's brothers Anthony and Nick to the devilish hilt.
Though a musical featuring children might sound a little suspect, these young people have the vocal chops. Clair Brodhead as Audrey has amazing range and vocal quality for someone so young. Perhaps my favorite number of the whole play was an ode to shoes, featuring Zadrian Smith as the snazzy shoe salesman.
As for the set, it couldn't be too elaborate because of the fact that it had to be able to disappear for the weekend's productions of "Peter Pan." Miley chose to create scenes and props out of colorful boxes of different sizes. The ensemble members worked together to set up the boxes for each scene, while staying actively involved in the scene through sound effects and body motions.
There was constant movement and plenty of activity to keep both the cast and audience involved. The cast kept the energy up the whole time and seemed to be having a great time. It is truly a worthwhile production, and a labor of love from a woman who knows no rest: Kelie Miley.
Beth Concepción can be reached at 525-5500 or
by e-mail at beth@georgiaguardian.com
"Alexander and the Terrible, Horrible, No Good, Very Bad Day" is onstage at the Savannah Theatre July 15 at 10 a.m. and 1 p.m. Admission is free. For more information, call 233-7764.
Sitemap | Subscribe | Survey | FAQ | Contact Us
Copyright 2000 Georgia Guardian. All rights reserved.