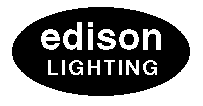 407 Whitaker St.
(912) 447-1008

Edison Lighting offers unique
lighting options with an attitude

For those who are in the market for lighting, and want something they won't see anywhere else, there are plenty of choices available at Edison Lighting, 407 Whitaker St. Owned by Gale Ryba, the lighting store, which specializes in antique reproductions, has been open for one month, and promises to satisfy even the most discriminating tastes.

Ryba, who recently relocated to Savannah from Houston with her husband Tom, has been in the lighting manufacturing business for 10 years. After some consideration, she decided a new lighting store was needed. "I decided to go with what I know," she said. "I showed the merchandise that I had to decorators in town, and everyone told me that I just had to open a shop here," she said.
Ryba's shop is boutique-oriented, and she sells everything from chandeliers and sconces to floor, wall and table lamps for home, office and commercial purposes. Edison Lighting sells middle- to high-end merchandise, according to Ryba, as well as designer collections, including Bill Blass.
There are many benefits to purchasing antique reproductions, said Ryba. "If you want more than one, you can get it, and another good thing about an antique reproduction is that if a piece happens to break, a replacement is available." Also, reproductions are typically less costly than original antiques.
If a customer is looking for a certain item and cannot locate it in Ryba's shop, she can find it through a large network of companies and catalogs she uses from around the country. "I will look for anything the customer wants if it isn't in my store," she said. "Anything from antlers to iron to crystal, or outdoor lanterns."
"I don't think my business will be built up on tourism necessarily, but we do ship anywhere," she said. "I plan to cater to the local people, and all the building that's going on in Hilton Head and Beaufort County because I also accommodate builders and designers."
Ryba's goal is to have a successful business. "I want people to feel comfortable coming into the store and trust they will get the best service possible," she said. "I price my merchandise fairly, and if a customer wants to come in with a decorator, they can sit down and enjoy a soft drink on the house." One of the services Ryba offers is the ability for a customer to take an item home on approval to see if it works in the home.
"I love the interaction and the challenge of this work," said Ryba. "And especially the satisfaction of a happy customer. I really have something here for everybody."
For more information on Edison Lighting, visit the store at 407 Whitaker St. or call 447-1008.

Home | Contact Us | Sitemap | FAQ | Subscribe | Survey
(c) Copyright 1999. The Georgia Guardian. All rights reserved.
External sites are not endorsed by the Georgia Guardian.