Now located in Savannah's Oglethorpe Mall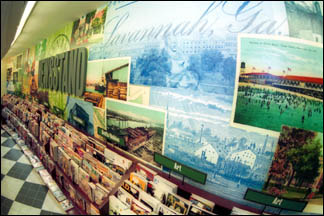 Photo by Richard Rodriguez
The new Barnes & Noble superstore opens May 10.
"It's about time, books at Barnes & Noble"


Perhaps the most valuable commodity customers can posses when they venture into a Barnes & Noble bookstore is time. It's not the kind of place you can just pop into and be on your way.
It's hard to hurry, after all, when the smell of new books, fresh Starbuck's coffee and blueberry scones fill your nostrils; harder still after you settle into an overstuffed chair to wend your way through some new literary discovery; and nearly impossible when you can access virtually any musical recording ever made, sample the sound and order your own personal copy.
Your senses need time to absorb it all.
Barnes & Noble, the nation's largest bookseller, will open its newest superstore May 10 at Oglethorpe Mall on Abercorn Street. The 27,000 square-foot store is decorated in earthy tones with pastel signs and highlights, ironwork created by local craftsmen and miles of polished wood. An 8 x 50' post-card mural above the newsstand depicts the industrial, architectural and romantic history of Savannah. The superstore stocks more than 170,000 book titles, including 15,000 different children's books, easily accessible with wide aisles and open display cases. The store's 65 employees can help customers access and order more than one million titles, and more than 25,000 audio cassettes and discs, video and digital video disc titles.

In addition to typical bookstore selections the new superstore has sections for new authors, local writers and specialty titles.
But it's more than just a big bookstore. "Barnes and Noble is dedicated to providing the kinds of services our customers want," said store manager May Ann Worsham. "These services involve an ongoing calendar of exciting, free events, including poetry readings, book discussion groups, author signings and children's story telling hours, often featuring special guests."
Community relations director Melanie Smith said the store will try to offer anything Savannah customers want.
"We strive to be different," she said, "to give a platform for any artist or creator to display their work." The store will invite artisans to demonstrate their techniques to the public. "We're going to have acoustic music nights, open-mike nights, and cooking demonstrations by local chefs. We can even promote local musicians by selling their CDs directly in the store."
In addition to exposing local artists, the store's community outreach program extends to at-risk children.
A portion of sales from a by-invitation Friends and Family Preview Night will benefit First Book, a national, non-profit organization that distributes books to children who otherwise have little or no access to them in local, community based tutoring and family literacy programs. In partnership with the local First Book chapter, Barnes & Noble will host a book party at a later day where children from Spirit Kids Club after-school program will visit the store to choose a book of their own.
While a growing number of people are buying books and music over the Internet, Smith says the new Barnes & Noble store will offer a pleasant alternative to on-line shopping.
"There is an atmosphere here that you can't get on-line," she said. "Our people are friendly, open and helpful; you can have coffee and a snack, listen to music, or get comfortable in one of our poofy chairs with a good book."
Doing all that, your senses will tell you, takes time. Savannah's new Barnes & Noble store will accommodate you and your senses every day from 9 a.m. to 11 p.m.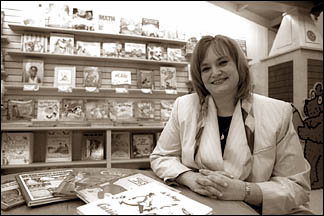 Photo by Richard Rodriguez
Melanie Smith, the community relations director, shows off the
new children's book section at Barnes and Noble.
Sitemap | Subscribe | Survey | FAQ | Contact Us
Copyright 2000 Georgia Guardian. All rights reserved.